The BC Wildlife Federation is hosting the
Wetlands Institute for FREE in the West Kootenays!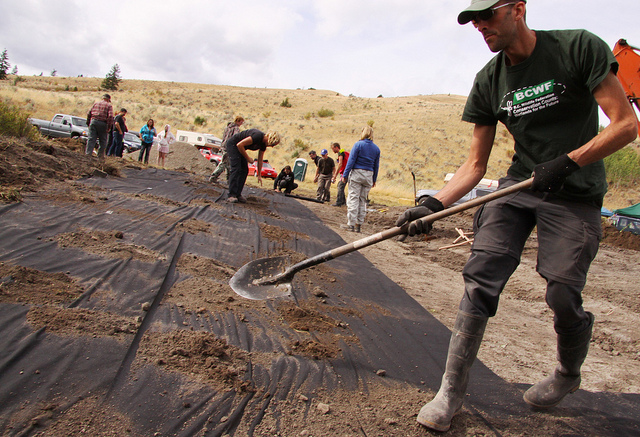 The BC Wildlife Federation's Wetlands Institute, a 7-day environmental stewardship workshop, is coming to the West Kootenays. It is with great pleasure and excitement that we bring this valuable course to the area free of charge (worth over $1,000 per participant) – if you register before August 3rd!  This special offer is as a result of the generous contributions from our 2013 funders (this does not include food and lodging, although these can be arranged for a reasonable fee).
The workshop is suitable for consultants, planners, environmental/conservation groups, government and First Nations representatives, engaged community members and keen outdoors-types. Participants should come to the course with a wetland project or program that they wish to implement in their community. Apply soon, as this course has been known to fill quickly! We will contact you to confirm acceptance after we have reviewed your application.
This year, you will have a chance to assist renowned Wetland Restoration Specialist Tom Biebighauser in the restoration of a wetland at Tulaberry Farms in Passmore and construction of a wetland in the Village of Salmo.
Currently trainers and topics covered are not confirmed for the course. However, here is a draft of topics we hope to include this year:
An appreciation of the importance and diversity of wetland types and functions
Hands-on experience planning, constructing & restoring wetlands with both ground water and liner techniques with internationally renowned Wetland Restoration Specialist Tom Biebighauser (US Forest Service);
Invasive species in wetlands. Identification and control methods.
Wetland invertebrate sampling and identification
Wetland regulations: protection, forestry laws, etc.
Hands-on experience with wetland inventory and classification
Online media communication tools
Grants and fundraising
Landowner contact approaches
The role of wetlands in stormwater management and bioremediation
Current inventory/evaluative field techniques for vegetation
Using GPS technology to map wetlands
Wildlife survey techniques
To see the report from last year's Sea-to-Sky Wetland Institute, click here
This field experience also provides access to a network of individuals who will help you successfully complete your local conservation project(s). You will leave with the skills and support you need, and full time participants are eligible for a BCWF Wetlands Institute certificate after successfully completing the workshop.
To apply click here
Please share this email with others you feel might be interested in this amazing opportunity.
For more information contact:
Neil Fletcher, Wetlands Education Program Coordinator, BC Wildlife Federation
Office: 1-888-881-2293 ext 232
Mobile: 604-970-9707
Email: wetlands@bcwf.bc.ca
Website: www.bcwf.bc.ca

Financial Support Provided By: